The Audi Pre Sense City Safety System is a special system, which takes care of the driver and the pedestrians. A camera, that scans the road, locates the possible collisions (with other vehicles, pedestrians, objects, etc.). In case of danger, at city speeds, the system gives warnings to the driver and when there is a possibility of collision the car stops by itself. This feature makes the system extremely useful and effective when driving in city environment. One of the main advantages of the system is the protection of the most vulnerable participant in traffic – the pedestrian.
MAIN GOAL:
To achieve positive image effect, presenting Audi as a brand, which takes care both for drivers and pedestrians. To remind that the Audi Pre Sense City Safety System is equally useful both for drivers and pedestrians, because it protects both sides from fatal accidents
INSIGHT:
The driver is often a pedestrian and the pedestrian is often a driver.
STRATEGY:
To find the most emblematic point of interaction between a vehicle and a pedestrian and to turn it into a communication channel. IDEA: We took advantage of the fact, that cars stop, when there`s a person on the pedestrian crossing, exactly the way the Audi pre sense system would do. We used the zebra crossing as a symbol of the pedestrians' advantage and through them we sent a direct message to the drivers.
EXECUTION:
We chose locations with heavy traffic of pedestrians. That were the zebra crossings of the largest shopping center in Sofia with its adjoining outdoor parking lot. It`s known that most of the visitors of shopping malls are using cars in order to reach the commercial areas. In this way we guaranteed a large audience of drivers, who park their cars and then become pedestrians, when having to cross the street leading to the mall. We changed visually the pedestrian crossings, blending in the distinctive graphics the Audi logo, along with its message, emphasizing on the pedestrians` safety.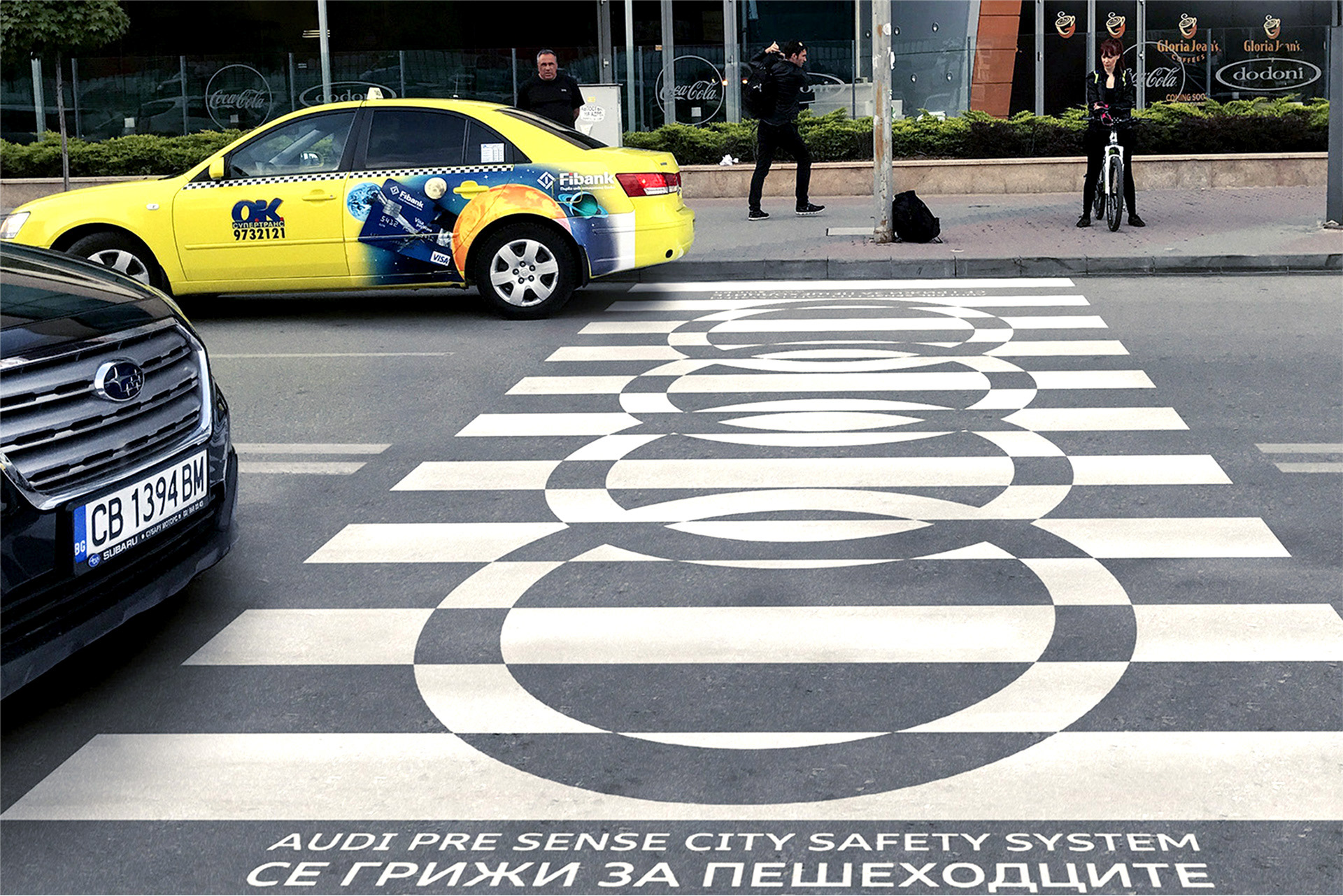 Bronze Award

| FARA 2017 | Out of Home | Ambient